MILWAUKEE CONCEALED CARRY PERMIT CLASSES
Get the training you need to protect yourself and your family.
Personalized Training-Your way.
​Milwaukee Metro's Premier Concealed Carry Trainer. We offer our 4 Hour Concealed Carry Class every week at 3 convenient locations in Milwaukee. We also offer personalized private group training at our place our yours. We can come to your home, business or the location of your choice to relieve the stress of training with a group of strangers. Concealed Carry and Handgun Marksmanship Fundamentals classes start at $75. Sign Up Now for a HOME PARTY! Concealed Carry Class with your friends!! Sponsor a CCW Party of 10 or more and receive your training for free! SEE BELOW!
Concealed Carry and Personal Defense $75.00**
​
This 4+ hour class is taught by an NRA Certified Pistol Instructor and exceeds the Wisconsin Dept. of Justice requirement for training. This course covers basic firearm safety, modern concealed carry techniques, safety in your home and proper storage along with hands on exercises. We will discuss the use of deadly force and the attitude necessary to responsibly carry a concealed weapon. Course fee of $75 includes Certificate of Training, Course Training Manual along with some valuable Concealed Carry materials. Because of our small personalized classes we ask that you pre-register for this class.
Handgun Marksmanship
Fundamentals*$75.00 (Group Class)
If you've been thinking about getting a handgun for protection but have been hesitant to get started, then our virtual shooting range is the perfect place to start. We'll cover all of the fundamentals of firearms safety and Handgun Marksmanship in a relaxed setting. This class focuses on basic gun handling skills including proper grip, stance, aiming and trigger control. After you gain confidence with your ability, you'll be ready for the live fire range. This "state of the art" virtual range system uses real handguns that have the recoil of a firearm but do not use live ammunition. Until recently this type of training has only been available to Law Enforcement and Military.
Defensive Shooting Fundamentals - Level 1 $200.00

​ Coming Soon!
Defensive Shooting Fundamentals will guide you through the steps you'll need to take to go from just sending rounds downrange to actually training in specific, tested methods of armed self-defense. From stance to grip to physical shooting technique, Defensive Shooting Fundamentals Level 1 will help you hone the edge on your inner warrior expert. You'll get your body working with your gun instead of against it, you'll learn which intuitive skills work best with what your body will naturally do while under stress in a combat situation, and you'll learn to apply this information simply and effectively - regardless of your skill level.
Group Concealed Carry Party (Private)
Great for families, friends and Private Business.
We offer personalized private group training at our place our yours. We can come to your home, business or the location of your choice. These classes are a great way to introduce new shooters to concealed carry and firearms without the pressure of being around a bunch of strangers. The course fee is $75 per student and includes Course Certificate of Training, student manual and some valuable training materials that the students can bring home with them. You will need seating for all of your guests and either a space for a projector screen or a modern flat screen TV for us to plug a laptop into (HDMI) for the presentation.

We will bring everything to you

and we usually

have a lot of fun

. Please do not hesitate to call with any questions. Must have a group of at least 10 guests. 10+ guests and the host is free!
FOR QUESTIONS OR BOOKING: (414)788-0018
Meet your Instructor
John D. Rowe
NRA Certified Instructor
NRA Chief Range Safety Officer
USCCA Certified Instructor
Specializing in new shooters, John has amassed a loyal following in the Metro Milwaukee area, having trained over 10,000 students in basic firearms and concealed carry training through his company Kettle Moraine Firearms Training and website YouCarrySafely.com. John's professional training techniques provide students with a strong foundation that will allow them to build their firearms skills, understand the legal issues surrounding the use of lethal force and provide them with critical training that could potentially save their life or the life of a loved one. As the Lead Firearms Instructor at Kettle Moraine Firearms Training, John's focus is to provide a safe, encouraging, family friendly environment that will allow students to learn effective marksmanship and gun handling skills, whether they are a beginner or an advanced shooter.
Call, TEXT, or Email John with any questions.
Phone: (414)788-0018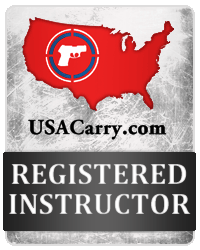 THE MOST TRUSTED CONCEALED CARRY TRAINER IN MILWAUKEE
**ALL TRAINING IS PROVIDED BY AN NRA CERTIFIED FIREARMS INSTRUCTOR, BUT NOT ALL CLASSES ARE NRA COURSES